We are excited to announce that the Oxford Institute for Energy Studies, a recognized independent center of the University of Oxford, has published our report (pdf link) on completion design changes and well productivity in the US shale sector.

This report updates our existing work on productivity gains during the oil market downturn.  It examines the continued productivity growth across multiple US shale plays and attempts to identify the factors contributing to this growth, as well as address some of the economic constraints going forward. The report establishes that shale operators have improved well productivity in nearly every US tight oil play year-over-year.  It is evident that certain, rather simple, modifications to well completion designs, discussed at length in the report, have contributed to these gains over past year or two. However, how and why these changes have improved productivity, particularly the issue of sub-surface activity during the fracturing process, remains a matter of debate within the industry. These sub-surface 'known-unknowns,' as we refer to them in the paper, are the subject of intense scientific and technical research. Such research will propel further productivity gains in the medium and long term as known-unknowns become better understood and the industry continues to draw on accrued experience.
Operators Leading Change
It is important to understand which operators will continue to improve productivity and financial stability.  The industry will be shaped by the E&Ps driving further productivity gains, delineating assets, pioneering technological advances, and, of course, improving balance sheet stability and generating positive free cash flow.  PetroNerds is at forefront of understanding the evolution of industry behavior and performance.  The arguments presented in this report are a key segment of our ongoing research into how shale markets will continue to evolve and the subsequent impact on assets and markets.  This research informs our advising services as we help our clients understand the subtler shifts in the market and the implications for individual businesses.
Contact Us
Trisha Curtis is the lead author of this report and is also a Research Associate at the Oxford Institute for Energy Studies. Please email her with any questions at trisha@petronerds.com.
We would also like to thank the Energy Policy Research Foundation, Inc. for their support of this paper.  You will soon be able to find a version of this paper on their website at www.eprinc.org.
Natural Gas Hedging Update Posted, Oil Hedging Update Coming Soon
Last week we posted an article (link) on the Q4 2017 natural gas hedging activity of a handful of prominent gas producers who had already released earnings (Cabot, EQT, QEP, Range Resources, and Southwestern).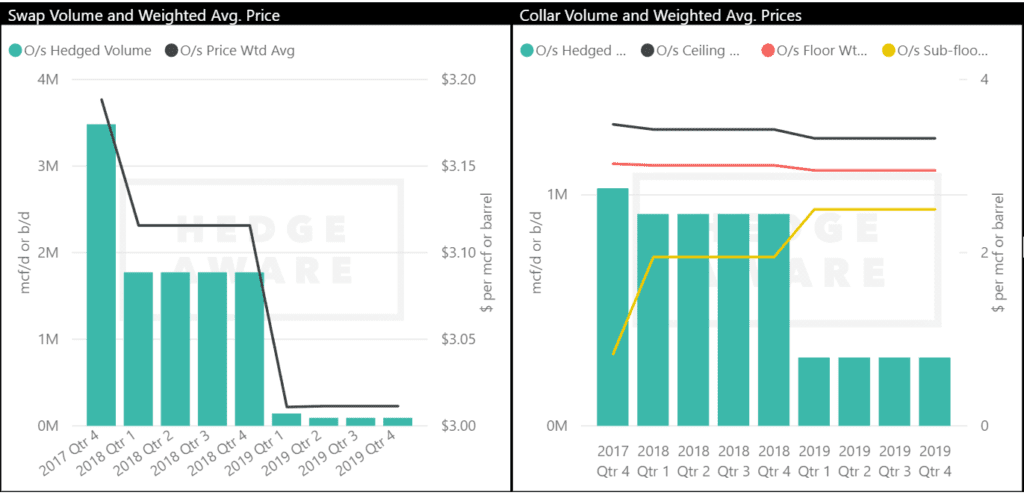 The article, drawing on data from our HedgeAware platform, looks back at the operational performance and hedging efficacy of these operators for Q3 and outstanding hedging positions going into Q4.  It is worth a quick read as the recent surge in natural gas prices above $3/mcf threatens to marginalize, or worse, the hedging positions of some of these operators.
Stay tuned for a piece on Q4 oil hedges and how operators might be affect by the recent rise in oil prices since the end of September!